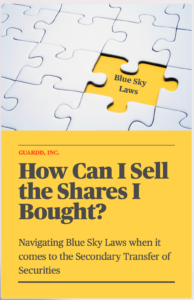 How Can I Sell the Shares I Bought?
Selling private company securities isn't straight forward. An investor needs to know whether or not his or her securities are unrestricted and freely transferable. On top of that, issuers may need to provide current and ongoing company and financial information so buyers can make an informed decision. In this white paper we dig into the intricacies of how state Blue Sky laws impact secondary trading, what the existing exemptions are that allow for it, and how to allow for investor liquidity by complying with the Manual Exemption.
When it comes to Blue Sky compliance for secondary transfers there aren't many options; GUARDD or OTC Markets. OTC Markets is a comprehensive solution for issuers that wish to list on OTC Markets. While that has many benefits, it means you pay for all their services. For issuers that don't wish to list on OTC Markets but need Blue Sky compliance for secondary transfer there is GUARDD. WIth GUARDD you can list your securities on any ATS at a fraction of the cost.