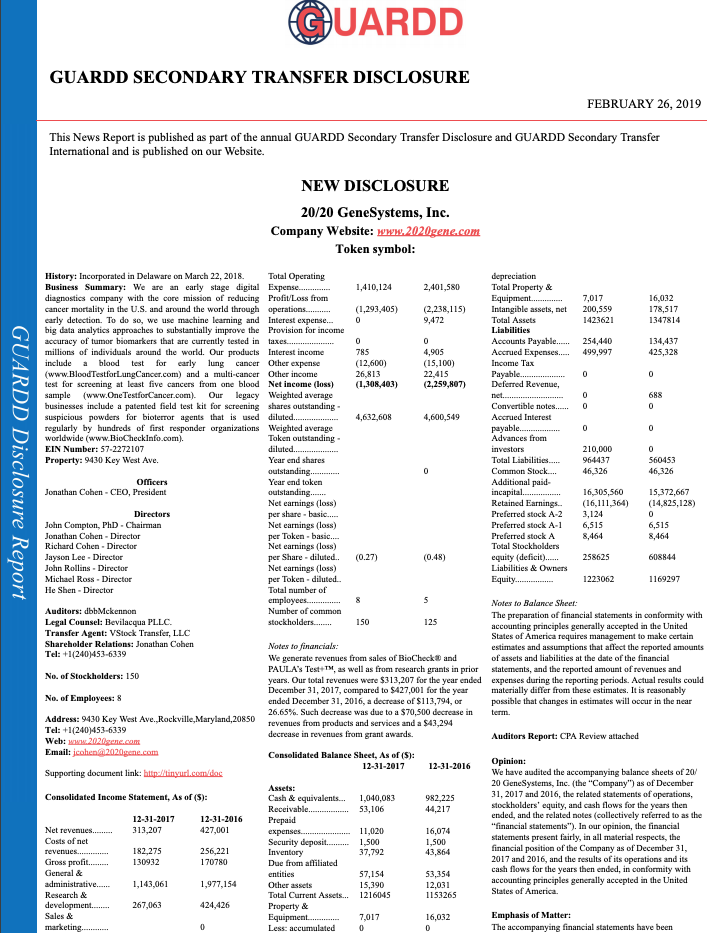 There is no federal or state law or regulation requiring private companies to report their financial, performance and corporate information to current and prospective investors in their securities. Private companies disclose varying amounts of performance and corporate information in connection with an offering, and frequently fail to keep investors informed over time.  
We have built an online database of core corporate and financial information called GUARDD (standing for Global Utility Archival Retrieval Disclosure Database) to address the disclosure gap for private companies. GUARDD is a national securities manual designed specifically for the burgeoning market of non-reporting, private companies.  
Similar to Mergent's Investor Service, and OTC Markets Group, Inc. corporate reports, GUARDD is an online disclosure tool that was founded on the premise that investors in private companies need regular, updated information about the financial condition and corporate news of companies in which they make private investments, much like  investors in public companies have access to ongoing company information via reporting filings.  Further, secondary market transactions need to be supported by current information that the GUARDD reports can provide.
Companies that wish to use GUARDD to disseminate financial information to their investors or to regulators
may create an account in the system and enter information from their audit report that includes key information about the company, location of operations, contact information, Tax ID, the management, officers, directors, legal counsel, auditors, transfer agent, financial statements for the 2 most recent periods, auditor opinion and emphasis of matter, capital stock, offering history, beneficial owners, listing information and token information (if they are issuing security tokens).
While the current securities manuals (i.e. Mergent/OTC Markets) are available for public companies to report their financial information to continually keep the market informed about their performance, they do not allow private companies to do the same. In addition, those reports are available only on a subscription basis but our system collects information and publishes it to the web in the form of a downloadable report that is free to both investors and regulators.
When issuers set up a profile on GUARDD they indicate which securities law exemption was relied upon for the primary sale of securities. Once their report is published, this information can automatically be sent to any state where GUARDD is recognized. Hence regulators will receive unprecedented information and updates about private companies that have sold securities and may be conducting resales of those securities. Anytime an issuer makes periodic or material changes to their information, investors and regulators will automatically receive a notification as well.
GUARDD brings a first of its kind transparency into private companies that wish to have liquidity for their investors by keeping them compliant with State Blue Sky Laws.  Click here for pricing information.